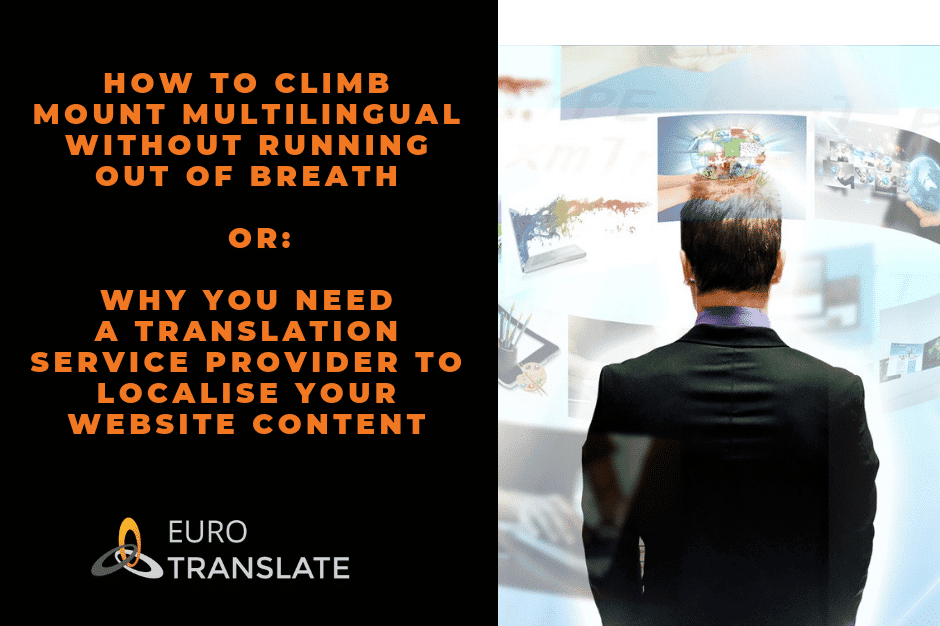 Or:
Why you need a translation service provider to localise your website content
WORLDWIDE LANGUAGES
The language of your website is a key element in driving visitors, and customers to your business. While there are nearly 1.7 billion English speakers across the globe, only a fraction of them – around 22% – consider themselves native speakers and this represents 4.73% of the total global population.
This means that more than 95% of the global population simply won't fully understand what you are talking about on your website in the first place.
Why miss out on a large number of potential visitors, users and – most importantly – purchasing clients?
WORLDWIDE WEBSITE?
Companies entering and growing new markets need to consider having a comprehensive localisation plan for their content, and nowhere is that more pressing than with websites.
A multilingual website is becoming a mission-critical asset for any company in todays' globalised world, with its ability to attract new customers, inform them about products or services, and conduct sales.
Whether the website's main purpose is to sell a product, or provide a service, in order to achieve maximum effect, its message must be clear and fully understood by the person reading the content.
While looking for a product or service from other countries, have you ever thought how much easier it would be if the website you were browsing was in your own language?
Have you ever considered that your customers from other countries must learn your language to be able to buy from your business?
With global online sales growing in double-digit figures every year, are you missing out on your share?
Getting the edge on competitors
To give you an edge over your competition, invest funds, time and effort in developing a website that communicates in local languages for your customers. When you use local languages with great content and visuals, optimised for search engines, you will see higher levels of profits and help your company grow.
Meanwhile, your competitors that neglect the one key aspect of translating the site will fall behind. Even if much of their furniture, software, or party items are bought locally, they should still be thinking about international visitors who reach the website and are willing to give their business a chance.
Before we go any further, let's be clear why we are talking about localisation, not just translation when it comes to your website.
Website localisation involves:
Adapting content to international or regional audiences
Ensuring cultural compatibility
Adapting images, colours, and icons, where necessary
Adjusting layout to accommodate content
Conversion of units of measure and currencies
Adapting local formats (phone numbers, dates, etc.)
Complying with local legislation
Localisation and linguistic testing
What Eurotranslate can do for your online business success
For the last two years Eurotranslate has been working with Pelatis Online and receiving in-depth training to develop the digital skills essential for the localisation and optimisation of websites. Combined with the specialist translation skills they already had, Eurotranslate now has a highly skilled team that can also translate your website content and improve search optimisation and user engagement.
Website translation projects have produced dramatic growth in visitor traffic and increased conversions to customers for our clients.
Every website localisation project is a potential mine field of administrative tasks, quality management, timelines, consistency, juggling multiple tasks and people. However, this is where the professional translation agency comes in – not simply providing  high-quality localisation services, but also a comprehensive turnkey solution which leaves your website-related headaches well out of sight and out of mind.
We'll climb the mountain for you
Eurotranslate will make this huge task manageable, as we are experienced in handling all localisation, optimisation and user engagement work, even for multiple languages at the same time, as well as quality controls, workflows and many other painstaking tasks.
Single source of all branding standards
We will also manage your terminology effectively, as it goes without saying that your branding needs to be consistent across all the languages, as well as product or service-related terms. The creation and management of term-bases and translation memories is what any good agency would provide as a service. Eurotranslate will ensure that all the translators and reviewers are aware of your standards, and will keep them consistent throughout the whole website, across all the languages.
Think about ALL the possible content: don't stop at just the website text. Do you have explainer videos, mobile apps, manuals or e-learning content? Anything that is customer-oriented needs to be consistently and thoroughly localised!
Eurotranslate has invested in these digital skills to ensure we are able to handle all of your media, including different file formats, types of translation, and additional services, such as voiceovers, subtitling, and similar.
Letting the experts handle multimedia localisation is not just economically expedient, it also ensures that the work is done according to high standards making it stress-free for you!
Why should Eurotranslate be your translation partner?
When asked about this, our founder and Managing Director Tina Zucko said:
"Reputation, dependability and experience are just some of the things that our clients have come to rely on.  Our desire to be the best is supported by continuous improvement, developing the skills of our translation teams and specialisations in industry sectors with translators who come from those market sectors, understanding the industry and the terminology that makes them the perfect team member for our growing company."
Browse through our website and contact us to discuss your website translation and localisation project.  We look forward to hearing from you.
Eurotranslate
A full-service translation agency specialising in the languages of the Balkans and South Eastern Europe, translation and localisation from the major world languages in the IT, marketing, medical, legal and technology industries. From legal certification to marketing and websites, Eurotranslate is here to help your company communicate with your customers in this expanding economic region.