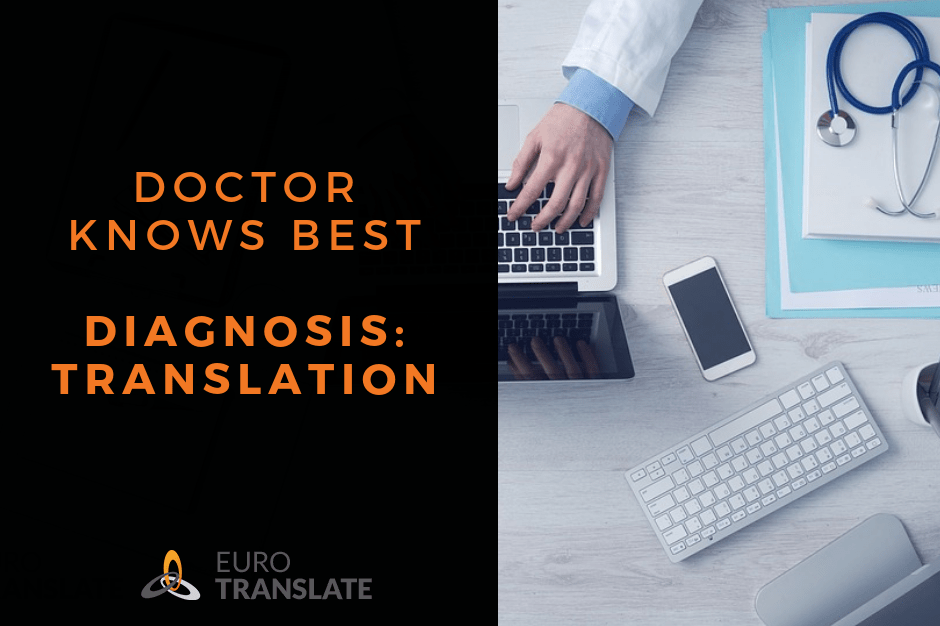 DIAGNOSIS: TRANSLATION
Article published on EUATC NEWS
At #t9n conferences people are usually surprised when I say I'm a medical doctor. They always ask me how I ended up in the translation industry.
When it comes to those interesting journeys in life, they are all marked by the fact that you never end up where you started, and never as planned.
But as we all know, it's not about the destination, it's all about the journey.
My Journey
Starting my secondary education, I knew, as much as a 14-year-old can know, that I wanted to be an army pilot, a geneticist or a medical doctor, but working in a translation agency was never on my radar. Finishing vocational medical high school, I wanted to test out ever more different professions, but medicine was a course already mapped out for me, so I followed it, only to find myself in the freshmen years of medical studies in front of a crowd of international guests at an event organized by an NGO delivering training sessions in English.
Whilst I was interested in linguistics and foreign languages, I never saw it as a career goal at that point. One day, accidently, a proofreading task of a medical document landed on my desktop. While combing through the translation, I realised that it would have been easier if I had translated it from scratch myself. I had made so many changes in the file that, when the translation agency called me back, the only thing on my mind was: 'What the heck did I do wrong?' Turned out: nothing. Quite the contrary!
And the rest is history…
Course of disease
I had great fun translating and editing medical translations as a student, and freelancing was a great addition to my student budget, but still I did not consider entering the field professionally. I started working as a doctor, became an anesthesiology resident, all the while freelancing as a medical translator. I wouldn't refuse a single translation task as I enjoyed the work immensely.
I was learning a lot along the way about linguistics, while gaining new skills and conquering various mountains of specialised software, as well as medicine – and most importantly, about myself.
The two separate interests in my life in the end merged and took me down this new path and, as it usually happens, things started snowballing and one thing led to another. So, today I find myself head of the Life Sciences Department in an international translation company.
Treatment recommendations
I often get asked what it takes to be a good medical translator and what is more important: having a medical background or a linguistic one. This industry-old chicken and egg question, as my own history suggests, has no simple and definitive answer. What I can say, however, is this: whether you are a medical doctor looking to switch to translations, or a translator looking to specialise in medical translation, you need to be ready to learn a lot, and have an active, passionate and long-standing interest in both fields.
Conclusion
In the end, there is more than one way to help and heal someone, and it is not always confined to the doctor's office. In my case, my 'treatments' apply to the various documents which are all, in the end, aimed at helping numerous patients worldwide in difficult situations.
Author: Aleksandra Bankovic, Head of Eurotranslate Life Sciences Department
Aleksandra is a medical doctor, with extensive experience in the field of medical translations, leading the Life Sciences Department with passion, dedication and determination, well-known and loved for tackling the most difficult of situations with a great sense of humour, generosity and amazing attention to detail.
A full-service translation agency specialising in the languages of the Balkans and South Eastern Europe, translation and localisation from the major world languages in the medical, legal and technology industries. From legal certification to marketing and websites, Eurotranslate is here to help your company communicate with your customers in this expanding economic region.
When it comes to medical translation, speak to us about our medical translators, we are very proud of them, as doctors and clinicians and as translators.