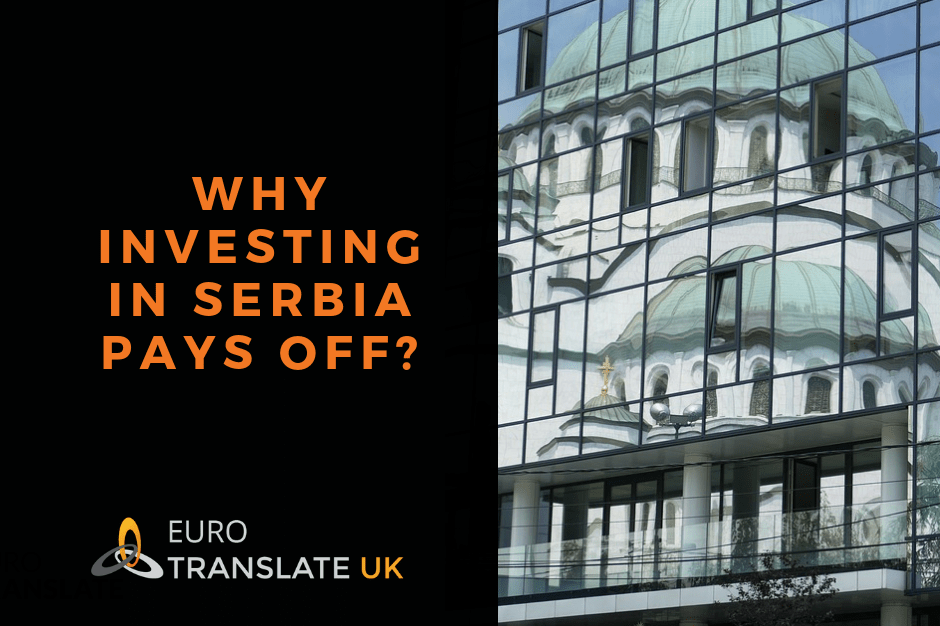 Recently, Siemens Austria Mobility CEE Arnulf Wolfram, who took part in the conference of Financial Times and the Western Balkans Chamber Investment Forum, pointed out that investments in the region, especially in Serbia, paid off.
He said that Siemens' experiences in the region, especially in Serbia, were positive and that he could recommend to investors to invest in the region. He pointed out that there was a good supply of a highly educated workforce in the region and that the local political structures supported inward investment.
Since the onset of economic reforms, Serbia has grown into one of the premier investment locations in Central and Eastern Europe. A list of leading foreign investors is topped by world-class companies and banks such as Bosch, Michelin, Siemens, Panasonic, NCR, Yura, Magna, Continental, Calzedonia, Eaton, Stada, Falke, FCA, Swarovski, Ball Packaging, Sitel, Microsoft, Gorenje, Schneider Electric, Geox, Tarkett, Johnson Controls, Johnson Electric, Leoni, and many others.
Exports and imports
Serbia is the 76th largest export economy in the world. The top exports of Serbia are cars, electrical parts, insulated wire, and machinery, tyres, frozen fruits, vegetables, nuts and metals.
Its top imports are vehicle parts, crude petroleum, petroleum gas, refined petroleum and packaged medications.
Foreign Direct Investment (FDIs)
Serbia is a country whose economy is in full expansion and in 2015 FDI reached EUR 1.8 billion.
EU countries are the main exporters of FDI's given that 80% FDI's came from the EU. FDI mainly targeted the following sectors: manufacturing, trade, real estate and logistics, financial mediation.
Since the year 2000, Serbia has attracted more than EUR 27 billion of foreign direct investments and grown into one of the premier investment locations in Central and Eastern Europe. A list of leading foreign investors is topped by world-class companies and banks such as FIAT, Telenor, Stada, Microsoft, Coca-Cola, Delhaize, Michelin, Gazprom, Bosch, Siemens and Intesa Sanpaolo, among others.
Chinese investments
Besides investments from the European Union, the Serbian infrastructure, electric power, food, telecom and automotive sectors are attracting attention from Chinese investors as well.
In 2014, the Serbian government announced that China National Electric Engineering Co. (CNEEC) publicised plans to invest in Serbia.
During 2016, consortium consisting of CNEEC and Scarborough group signed a contract worth EUR 230 million on building a power plant in Serbia.
In 2017, Mei Ta Group, Chinese producer of automotive parts, finished the construction of production plant as a part of their 60 million EUR investment in Serbia.
Additionally, several Chinese construction companies are currently executing infrastructure projects in Serbia as part of Chinese Government's Belt and Road Initiative (BRI), including a EUR 302 million section of the Corridor 11 Highway constructed by Shandong Hi-Speed Group, a EUR 208 million section of the Corridor 11 Highway constructed by China Communications Construction Company Ltd. (CCCC), and a 350 million USD section of Belgrade-Budapest Railway built by China Railway International and CCCC, on which works started in November 2017.
Chinese construction companies are also seen as probable contractors for several other infrastructure projects.
As the first country in Central and Eastern Europe to introduce visa-free regime for Chinese nationals in January 2017, and one of the most active members of 16+1 format, Serbia has taken the lead in promoting cooperation with China and attracting Chinese investments.
UAE Investments
The most significant capital investment in Belgrade that was initiated in 2014 and started in 2016 represents projects between the Serbian Government and Eagle Hills, a private investment and development company from the United Arab Emirates. Investment includes the building of office space and luxury real estates, five-star hotels and a shopping mall, estimated to be worth EUR 3.5 billion.
According to World Investment Reports at the United Nations Conference on Trade and Development (UNCTAD), Serbia attracted some EUR 1.8 billion of foreign direct investment inflows in 2015, becoming one of the top 5 host transition economies in 2014 and 2015, and the best performer in Southeast Europe in 2015 and 2016.
The Reports also showed that in 2015 Serbia was the only destination country in the SEE region with announced Greenfield FDI projects and the country with above average share of mixed (domestic-foreign) joint ventures.
Ease of doing business
According to the World Bank Group report, ease of doing business index, Serbia changed from 68 for year 2014 to 43 for year 2018, and shows improving business conditions, especially with respect to increase of business-friendly regulations.
The net inflow of FDI in the first nine months of 2018 amounted to EUR 1.6 billion, which represents an increase of 12.6% compared to the same period in 2017. Accounting for 10% of the Serbian export, around 14% of value of foreign investments and employing more than 40,000 workers, making the automotive industry the most important industrial sector in Serbia today.
Over the past ten years, service sectors have proven to be the most attractive to international investors. Banking and insurance recorded the largest FDI inflow of EUR 5 billion. Manufacturing industries held the 2nd spot with EUR 4.8 billion, followed by wholesale, retail and repair of motor vehicles and real estate activities.
To find out more, here's the official document on Investing in Serbia by the Development Agency of Serbia.
About Eurotranslate UK
Investing in Serbia is, according to this report, a profitable venture.
To ensure that you are communicating effectively with your partners in Serbia, Eurotranslate UK can provide translation and interpreting services for your communications, legal and marketing documents.
Confidential, sector specialist in-country interpreters can be arranged for meetings with potential partners.
For further information in the UK please contact us on 02071935042 or in Serbia on 0113149617